Hemp Calming Fresh Sticks 3-Pack
Hemp Calming Fresh Sticks 3-Pack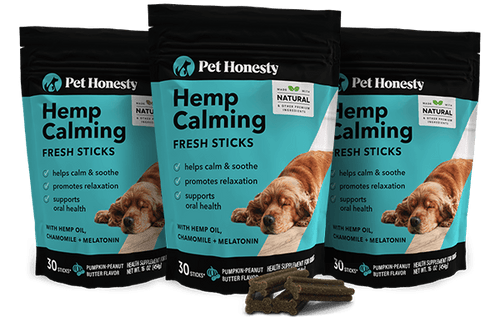 Hemp Calming Fresh Sticks 3-Pack
DESCRIPTION
Pet Honesty's Hemp Calming Fresh Sticks for dogs of all sizes are made in the USA with natural calming ingredients like melatonin, hemp, valerian root and chamomile that help ease anxious behaviors and hyperactivity in your dog.
These dental sticks for dogs are made in a GMP certified facility and have a delicious cinnamon peanut butter taste that dogs love. The abrasion from chewing the hard yet slightly flexible stick helps clean teeth while natural ingredients will help soothe and calm your dog during stressful events like thunderstorms, vet visits, travel and separation. 
Key Benefits
Promotes calm and relaxation

Helps reduce hyperactivity and excessive barking

Ridges and texture help reduce plaque and tartar build up 

Promotes a healthy mouth 

Made with natural ingredients like hemp, melatonin and chamomile 

Contains no chemical preservatives

Made in the USA in a GMP certified facility
The hardness of these dental sticks combined with a blend of natural ingredients like hemp, melatonin, chamomile, passion flower and more, promote healthy teeth and gums while also helping manage behavioral issues and promote calm. 
Give 1 stick per day per approx. 25lbs of weight.
Caution Statement: Not to be used with blood thinners.
Caution: If animal's condition worsens or does not improve, stop product administration and consult your veterinarian. Safe use in pregnant animals or animals intended for breeding has not been proven. An examination from a veterinarian is recommended prior to using this product. Administer during or after the animal has eaten to reduce incidence of gastrointestinal upset. Not to be used with blood thinners.
Read More
MONEY BACK GUARANTEE
|
FAST SHIPPING + EASY RETURNS
|
FREE SHIPPING $49+
|
MADE IN THE USA
My dog loves these hemp sticks. And they work really well within 30 minutes to help her calm for the evening.
Ashley G.
Transparent
ingredients,
all with a
purpose
98% of dogs
love


the taste of
Pet Honesty
supplements

* verified by independent feeding studies
Could your dog
benefit
from
more support?