Chlorhexidine Shampoo 3-Pack
Chlorhexidine Shampoo 3-Pack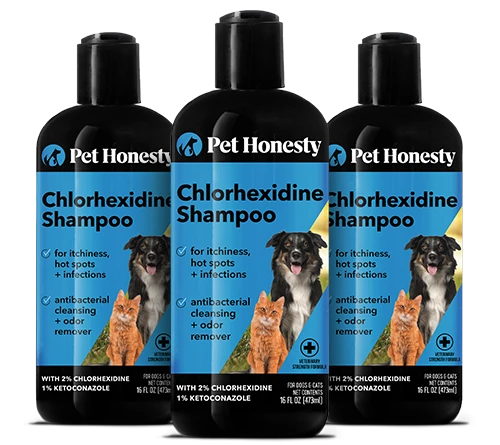 Chlorhexidine Shampoo 3-Pack
DESCRIPTION
This 3-Pack of Pet Honesty's Chlorhexidine Shampoo is great for cleansing and odor removal. It's an effective treatment for dogs and cats experiencing discomfort from wounds, skin infections, rashes, hot spots and itchiness.
Key Benefits:
Cleans dogs and cats while healing skin issues
Helps reduce smelly odors
Helps heal skin wounds, infections and hot spots
Reduces itchiness and skin inflammation
Soothes irritated skin with aloe vera
Pet Honesty's Chlorhexidine Shampoo is made with Chlorhexidine (2%) and Ketoconazole (1%) for the safest and most effective way to support your pet's skin issues right in your own home.
With a veterinary strength formula, this shampoo formulation is gentle but still strong enough to help relieve itchy skin, rashes and hot spots. The shampoo is has a light cucumber melon scent to reduce odors associated with the bacteria and fungus that cause discomfort and smelly skin issues.
This 3-Pack of 16 oz shampoo bottle (48 ounces) comes with a cap and pump insert to make dispensing and use easy. Use 4-6 pumps of this anti-yeast, bacteria, and fungus treatment shampoo per washing to address skin issues and reduce odor. 
Made with soothing aloe, the shampoo helps calm itchiness, redness, and irritation brought on by skin infections, rashes, wounds, hot spots and bug bites.
Read More
MONEY BACK GUARANTEE
|
FAST SHIPPING + EASY RETURNS
|
FREE SHIPPING $49+
|
MADE IN THE USA
This shampoo is awesome because it makes my dog feel better, his fur looks amazing, and he even sleeps better afterwards!! The smell of this great shampoo is fantastic!! Highly recommended!
Terry D.
Transparent
ingredients,
all with a
purpose
Could your dog
benefit
from
more support?