Hemp Calming 3-Pack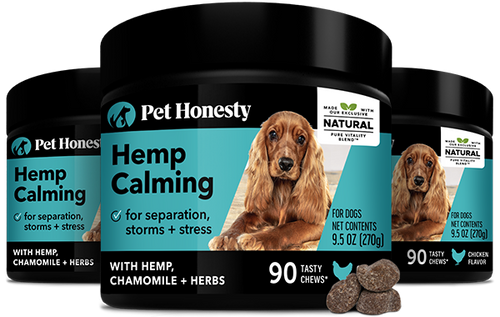 Hemp Calming 3-Pack
DESCRIPTION
Pet Honesty's Hemp Calming Chews can help make car rides, vet visits, thunderstorms, separation, and other stressful situations more enjoyable and less traumatizing for your pet. This deliciously chewy calming chews for dogs uses natural ingredients to calm and soothe your anxious dog.

Count: 270 soft chews for dogs

Key Benefits:

Temporarily calms a dog's demeanor
Addresses behaviors such as excessive barking and chewing
Helps to ease anxious behaviors and stress
Training tool to help your dog's focus
Eases discomfort associated with separation anxiety
How It Works:
Made in an American GMP-Certified facility, you can trust that our calming supplements for dogs are made with only the highest-quality ingredients. A powerful combination of active ingredients such as chamomile, ginger root, passion flower and hemp oil, work together to curb your dog's anxious behavior by creating a calming effect. Rather than feed your furry friend products filled with harmful chemicals and additives, choose a natural calming supplement that helps to relieve stress. 
Our calming chews for dogs feature ingredients like Valerian Root, an anti-anxiety herb that eases anxious behaviors in dogs and Organic Chamomile, a powerful herb that promotes calmness to help ease stress in your pet. Whether your pup experiences travel worries, motion sickness or separation anxiety, our calming chews can be used to address a number of stressful ailments. Calm your pup in the tastiest way possible by adding our calming chews for dogs to your dog's routine.
Caution: If animal's condition worsens or does not improve, stop product administration and consult your veterinarian. Administer during or after the animal has eaten to reduce incidence of gastrointestinal upset. Do not use in conjunction with CNS depressants. Do not use prior to anesthesia. Caution with anti-anxiety drugs and MAO inhibitors; might add to the effects of anesthetics. Do not use prior to surgery. Do not use in pregnant animals.
Read More
MONEY BACK GUARANTEE
|
FAST SHIPPING + EASY RETURNS
|
FREE SHIPPING $49+
|
MADE IN THE USA
I got these for my blue heeler/border collie mix who shakes like a chihuahua in anticipation of anything (food, play, visitors, etc). This has helped him a lot. I haven't noticed him shaking much at all.
Becky K.
Transparent
ingredients,
all with a
purpose
98% of dogs
love


the taste of
Pet Honesty
supplements

* verified by independent feeding studies
Could your dog
benefit
from
more support?