OTIC Ear Cleaner and Drier 3-Pack
OTIC Ear Cleaner and Drier 3-Pack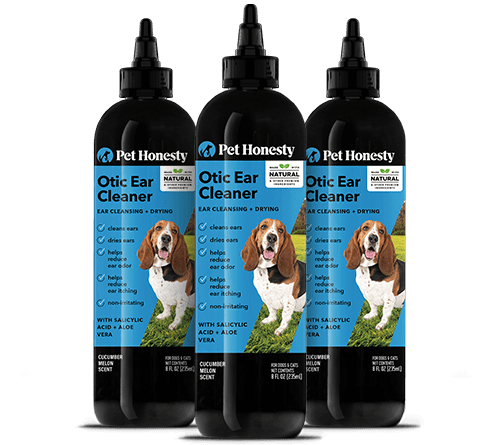 OTIC Ear Cleaner and Drier 3-Pack
DESCRIPTION
OTIC Ear Cleaner and Drier is a gentle way to clean your dog's or cat's ears and help most common issues that affect ears including ear infections, ear odor, ear itching. Just take our easy to use bottle and squirt tip cap to fill your dog's or cat's ear canal with the solution and gently massage at the base of their ear.
This ear cleaner has the exact right pH balance and a gentle amount of Salicylic Acid to help reduce itchiness, smells, odor, inflammation, redness and build up by washing away pathogens, dirt, excessive wax and bacteria. It safely and quickly clears up ear problems in 7-10 days and leaves dog's or cat's ears clean and fresh.
Key Benefits:
Less ear itching + scratching

Cleaner, odor-free ears

Fewer ear infections

Drier, irritation-free ears
The Veterinarian strength formula is made with gentle but effective Salicylic Acid and Benzoic Acid. This Otic Ear Cleaner and Drier flushes out pathogens and gunk that leads to irritation, redness, clogged ears and smells. The added aloe helps soothe your dog's or cat's ears and keep them nourished and moisturized. It's highly effective at fighting bacteria and microbes.

Pet Honesty's Ear Cleaner and Drier has the exact right pH balance to clean ears while still being gentle and safe. It's perfect for sensitive skin and won't irritate ears when used on a regular basis to keep ears dry and clean. Perfect for removing wax build up, drying after water activities and weekly grooming. 
Read More
MONEY BACK GUARANTEE
|
FAST SHIPPING + EASY RETURNS
|
FREE SHIPPING $49+
|
MADE IN THE USA
Transparent
ingredients,
all with a
purpose
Could your dog
benefit
from
more support?