Probiotics Gut + Immune Health for Cats 3-Pack
Probiotics Gut + Immune Health for Cats 3-Pack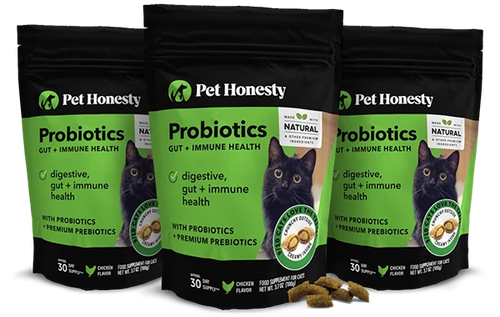 Probiotics Gut + Immune Health for Cats 3-Pack
DESCRIPTION
Pet Honesty's Probiotics Gut + Immune Healthis a delicious, dual-textured supplement that helps your cat experience less tummy troubles & a stronger immune response, since 70% of their immune system lives in their gut! Powerful ingredients like Probiotics, Premium Prebiotics, and Omegas work together to support your cat's gut & digestive health, help strengthen their immune system, and promote regularity & stool quality. The unique texture format pairs a crunchy outer shell with a creamy, savory filling, offering a taste and texture combination that cats love. 

Key Benefits:
Promotes regularity + stool quality

Supports healthy gut flora diversity

Helps strengthen immune system

Supports gut + overall digestive health

Packaged in 36% post-consumer recycled plastic to be gentler on the planet

Made with natural & other premium ingredients + no added corn, wheat or soy, and no artificial flavors, colors or preservatives

Manufactured in the USA with US and globally sourced ingredients | Made in a GMP compliant facility | NASC member company 
These dual-textured supplements are packed with key active ingredients to offer effective support to some of the most important parts of your cat's health. Probiotics help maintain proper gut flora + support digestive health. Premium prebiotics support beneficial bacteria in the gut. Omegas promote a strong immune system. Plus, with a taste and texture 9/10 cats love,* it's a simple way to boost their health and help them feel their best, in a format more palatable than the common, messy powders.

*Based on a 2023 feeding study

The unique texture of these supplements, paired with the delicious, savory taste, makes it easy to support your cat's health throughout the day. You can expect to give 1 chew per 1LB of body weight, daily or as needed. For kittens 4-6 months, give half a dose. Consult your veterinarian for kittens under 4 months.
Read More
MONEY BACK GUARANTEE
|
FAST SHIPPING + EASY RETURNS
|
FREE SHIPPING $49+
|
MADE IN THE USA
Transparent
ingredients,
all with a
purpose
90% of cats
love


the taste of
Pet Honesty
supplements

* verified by independent feeding studies
Could your cat
benefit
from
more support?