Pampered Pet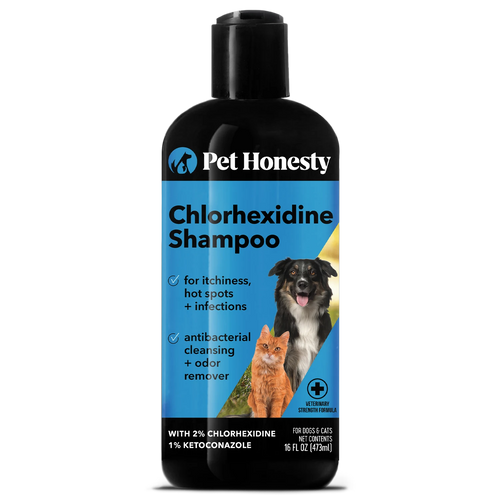 When your cat is struttin' their stuff down the hallway (we mean, the catwalk), they need a
lustrous coat & healthy skin fit for a celebrity. Sensitive, irritated skin can cause a lot of discomfort & take the
fun out of pouncing & playing, but this set makes it easy to pamper them 24/7.
You'll find the perfect options to soothe their skin, calm irritations & itchiness,
& unlock a whole new level of shine… So they look as good as they feel, inside & out.
Chlorhexidine
Your cat's about to love bath time once they realize how good this shampoo makes them feel! (Yes, that's a bold statement for a cat!) For the fur friends with sensitive, itchy, irritated, rashy, inflamed, or stinky skin… This will leave them feeling oh, so soothed.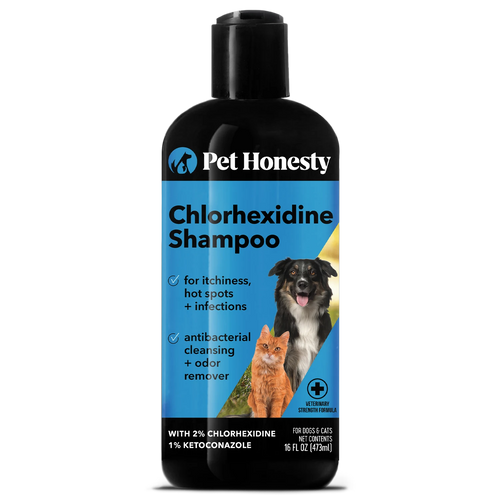 Skin & Coat
When a supplement is packed with omega fatty acids, you know your cat is in for a treat! They'll get a boost of essential nutrients that encourage a healthy, shiny coat & help soothe & nourish skin. Talk about feeling great!
Omega-3 Fish Oil
For the cat who wants to spruce up their daily meal & feel better doing it… This fish oil hits the spot. This tasty food topper supports healthy skin & a glossy coat with powerful omega-3 fatty acids, but also helps their joints, heart, brain, digestion, & immune health too!
Save 15% when
you buy three!
Your cat deserves to look their best, whether they're hanging out with pals or taking selfies with you all day!
Adding these items to their health routine gives them the extra support they need to feel more
comfortable & confident in their skin. Plus, you'll save 15% when you grab all three!
Other ways to spoil
your fur friend
Here are some more options you might
like (& your pet will love!)
to boost their
overall health & wellness.