Melatonin Calming Max Strength 3-Pack
Melatonin Calming Max Strength 3-Pack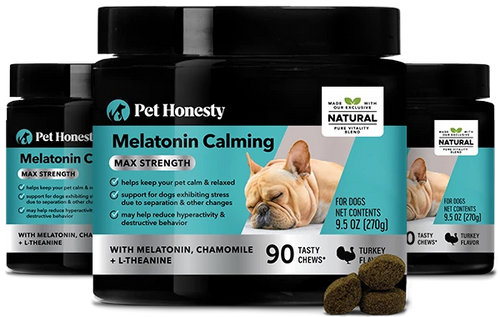 Melatonin Calming Max Strength 3-Pack
DESCRIPTION
Pet Honesty's Melatonin Calming Max Strength chews are vet-reviewed to support your dog with daily anxiety and stress and promote a more relaxed state when in unfamiliar situations. Powerful ingredients like melatonin, chamomile, and L-theanine help maintain a normal disposition, promote a sense of calm, soothe anxiety, and manage normal stress. 
Key Benefits: 
Helps keep your pet calm & relaxed 

May help reduce hyperactivity & destructive behavior

Provides support for dogs feeling anxious due to separation or new environments

Made with powerful key ingredients including melatonin, chamomile, and L-Theanine

Made with natural & other premium ingredients + no added corn, wheat, or soy

Made in the USA with US and globally sourced ingredients | Made in a GMP compliant facility | NASC member company
These soft chews are packed with ingredients known to help reduce anxiety, promote a sense of relaxation, and target brain health so your dog can feel more at ease during potentially stressful situations. Melatonin is a hormone commonly used as a sleep aid that helps with anxiety and promotes calm. Chamomile is a daisy-like plant used in herbal medicine to help soothe anxiety. L-Theanine is an amino acid found in green tea that supports dogs in situations that may cause stress of anxiety. If you're looking for an alternative to hemp, these tasty, max-strength chews are hemp-free and contain a blend of active ingredients like Ginkgo Biloba, Ashwagandha, and L-Tryptophan which work together to help manage normal stress and support a more balanced, normal disposition. Additionally, they also help support brain health and function.
These soft chews are easy to give throughout the day or during meal time, and your dog will absolutely love the turkey flavor! Depending on your pet's size and needs, you can expect to give 1 chew per day for every 25 lbs of weight.


Caution: If animal's condition worsens or does not improve, stop product administration and consult your veterinarian. Administer during or after the animal has eaten to reduce incidence of gastrointestinal upset. Do not use in conjunction with CNS depressants. Do not use prior to anesthesia. Caution with anti-anxiety drugs and MAO inhibitors; might add to the effects of anesthetics. Do not use prior to surgery. Do not use in pregnant animals.
Read More
MONEY BACK GUARANTEE
|
FAST SHIPPING + EASY RETURNS
|
FREE SHIPPING $49+
|
MADE IN THE USA
I got these for my blue heeler/border collie mix who shakes like a chihuahua in anticipation of anything (food, play, visitors, etc). This has helped him a lot. I haven't noticed him shaking much at all.
Becky K.
Transparent
ingredients,
all with a
purpose
98% of dogs
love


the taste of
Pet Honesty
supplements

* verified by independent feeding studies
Could your dog
benefit
from
more support?